Three-Islands boat trip
This is a half-day boat trip that encompasses three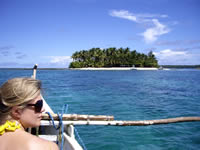 different and beautiful islands a few minutes from General Luna without having to go into the open ocean. First stop is Guyam Island, a leisurely five-minute ride from the General Luna pier. Guyam island is your classic uninhabited tropical island with a white sandy beach surrounding about an acre of coconut trees. This island was even featured on the cover of a previous issue of the Lonely Planet guidebook.
From Guyam you head to Daku Island, a much larger but equally as beautiful. Daku has a small town and covered picnic tables by the beach. There is a surf break out the front which is good for beginners and the island also has great snorkeling around the back so bring your goggles.
Another 5 minutes in the boat and you will land on Naked island. This island has no inhabitants or vegetation and you can easily swim around the whole island or walk around it looking for washed up shells.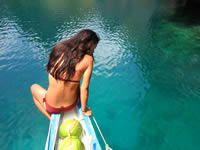 Sohoton caves & lagoon
More a lagoon with an entrance through a cave than an actual cave, Sohoton is the area's premier day-trip destination. About a two-hour boat ride to this newly designated national park from General Luna will find you in a landscape that has to be seen to be believed. Striking limestone formations rise out of the glassy waters to create a maze in which only the experienced can find the way out.
Your guides will take you to caves and jumping rocks and finally to swim with the very rare non-stinging jelly fish. Sohoton is a must for all travelers to the area.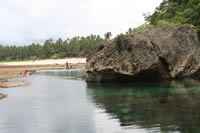 Magpupungko swimming pool
Situated near the town of Pilar about a 20 minute boat ride from Alon Resort. It's a great place to spend a few hours in the sun and salt water. Magpaponko is only exposed at low tide and the waters are washed out and replaced daily by the incoming tide leaving it a beautiful and clean place to swim.

Other trips & activities
For the really motivated there are other day trips including the Twin Islands of Mamon and La Janosa, and the day trip to Caob a beautiful waterway accessed through the vast mangroves of the Del Carmen area on the western side of Siargao Island.
Siargao Island is only 10km from the Philippine Deep (the second deepest area on the planet) and during the right season the fishing here can be fantastic. Alon Resort can organize fishing with various excellent local anglers relative to your budget. Try your luck catching sailfish, wahoo, dorado and tuna. You catch it, and we will cook it for you!
If you want to stay a little closer to the resort we have kayaks and surfboards for hire. We can arrange surfing lessons with experienced local surfers who speak fluent English and Tagalog. We can also organize motor bike rentals (bring your international license) or an air-conditioned van with a driver to take you around the island.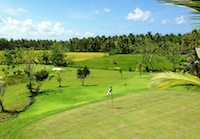 Golfing
Experience the newest addition to Siargao's activity roster at Maya Golf Course. This par 3 golf course is just 10 minutes from Alon. The course is set in the picturesque rice fields and provides a fantastic option for lazy tropical afternoons.
Diving and Snorkeling
Diving has become more popular around Siargao. With dives to suit all levels, pristine blue water and unparalleled visiblility surround the island. For experiecnes divers, the
Blue Cathedral
, just off Alon Resort, is recognized as one of the Philippine's premiere dive spots. For the less experiences, snorkeling and full PADI certification courses are also available.